At DentArana, we offer an extensive range of the highest quality dental services, including preventative, cosmetic, and restorative procedures as well as emergency dentistry. We use our expertise to provide our patients with the best personalised dental care possible for their long-term oral and general well-being.
Located in Arana Hills, DentArana offers appointment through the week, as well as Tuesday and Thursday evenings and Saturdays for our clients convenience. We also do our best to cater to all emergency dental needs. For more information, get in touch today.
Dental services around Arana Hills include Newmarket Dentist & Stafford Heights Dentist.
start your oral health journey today!
New Patient Specials
New Patient Offer: $199* for the first general exam, clean and scale for new patients.
Pay No Gap: NO GAP for a general exam, clean and scale with any health insurance (under 17's)*
No Gap Mouthguards: or $99 without health insurance.
No Health Insurance: $99 for a general exam, clean and scale (under 17's)*
FREE Consultation
Book a complimentary consultation for any of our services, including dental implants, cosmetic dentistry, smile make-overs, orthodontics and anti-wrinkle injections.
*terms and conditions apply to all promotions
schedule your
next

dental appointment today!

or visit us in store and talk to one of our friendly staff.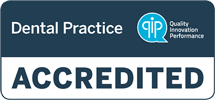 We are thrilled to share the fantastic news that we have achieved full accreditation from QIP (Quality Innovation Performance). This accomplishment affirms our commitment to delivering top-tier dental care and making a lasting positive impact on the oral health of families within our local community. QIP accreditation is a voluntary acknowledgment that underscores our dental practice's dedication to providing exceptional dental services while continuously elevating our patient care standards. The accreditation process revolves around seamlessly integrating the National Safety and Quality Health Service Standards (NSQHS) into our daily operations, with an unyielding emphasis on patient safety. Working hand in hand with QIP, the Australian Dental Association developed this accreditation framework for dental practices, focusing on the six National Safety and Quality Health Service Standards relevant to the field of dentistry.