Do you experience nervousness or anxiety when visiting the dentist? Rest assured you are not alone. To help improve comfort during your dental treatment, DentArana offer twilight sedation. This form of anaesthesia can be administered intravenously or via inhalation (also known as 'happy gas'). Twilight sedation is a great option for those looking for a safe and effective way to ease their nerves so that they can receive necessary dental care.
The team at DentArana have extensive experience in administering twilight sedation within our safe, comfortable and modern dental clinic. When opting for twilight sedation, you can expect to feel relaxed, with many people likening the experience to being in a 'dream like' state. Your level of consciousness will be carefully monitored, as it is important that you are still able to converse with your dentist whilst undergoing treatment. You may also choose to use twilight sedation alongside local anaesthesia.
Types of Twilight Sedation
Nitrous Oxide (Inhalation sedation) – Also known as happy gas, this is a gentle, fast acting form of dental sedation. Your dentist will administer a small dose of oxygen and nitrous, which you inhale via a soft nosepiece. You will feel a sense of calmness and reduced anxiety, however you will still be able to communicate with your dentist and understand instructions.
Intravenous Sedation – IV sedation can only be administered by a licensed anaesthetist. This method is typically used for complex or more time intensive dental procedures. The effects can linger longer than inhalation sedation, so you should not drive following the conclusion of your treatment.
Is Sedation a Good Choice for Me?
Twilight sedation is a very effective solution for people nervous about receiving dental treatment. It will assist with pain management and discomfort and help your body to relax. The effects are only temporary, and twilight dentistry can be a great option to help you maintain optimal dental health despite any existing anxiety or phobia of visiting the dentist.
It is worth considering in cases where:
You have dental anxiety
Are undergoing a complex dental procedure
Have hypersensitive teeth
Negative past experiences associated with visiting the dentist
Twilight Sedation Dentistry at DentArana
If you can't recall the last time you visited the dentist, or if you have a tooth in need of urgent treatment, there's no need to worry. DentArana are your trusted dentist in Arana Hills offering twilight sedation dentistry. We will make your experience comfortable, pain-free and straightforward.
Book an appointment today. We are open Monday to Saturday for all your dental health needs.
New Patient Specials
New Patient Offer: $199* for the first general exam, clean and scale for new patients.
Pay No Gap: NO GAP for a general exam, clean and scale with any health insurance (under 17's)*
No Gap Mouthguards: or $99 without health insurance.
No Health Insurance: $99 for a general exam, clean and scale (under 17's)*
FREE Consultation
Book a complimentary consultation for any of our services, including dental implants, cosmetic dentistry, smile make-overs, orthodontics and anti-wrinkle injections.
*terms and conditions apply to all promotions
schedule your
next

dental appointment today!

or visit us in store and talk to one of our friendly staff.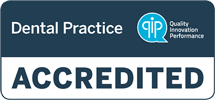 We are thrilled to share the fantastic news that we have achieved full accreditation from QIP (Quality Innovation Performance). This accomplishment affirms our commitment to delivering top-tier dental care and making a lasting positive impact on the oral health of families within our local community. QIP accreditation is a voluntary acknowledgment that underscores our dental practice's dedication to providing exceptional dental services while continuously elevating our patient care standards. The accreditation process revolves around seamlessly integrating the National Safety and Quality Health Service Standards (NSQHS) into our daily operations, with an unyielding emphasis on patient safety. Working hand in hand with QIP, the Australian Dental Association developed this accreditation framework for dental practices, focusing on the six National Safety and Quality Health Service Standards relevant to the field of dentistry.