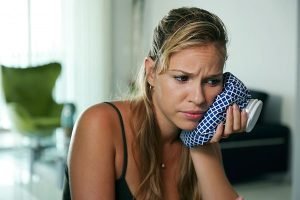 Pain can ruin anybody's day. If you are suffering from toothache, you don't want to stay in pain for more than a minute. You just want to get rid of it right away.
Toothache is one of the common dental emergencies we deal with at DentArana. It can be caused by many factors, but the most usual reason is due to poor dental care.
Causes of Toothache and Dental Pain
Cavities – these are the primary cause of toothache. Teeth that are not properly taken care of can be at risk of tooth decay and gum disease. The bacteria in plaque destroy the protective layer of the tooth, which then causes severe pain if the cavity is left untreated.
Gum disease – plaque not only attacks the tooth enamel but also irritates the gums. This can result in gum inflammation and infection. Gum disease is a serious dental disease, which can lead to various dental and medical conditions.
Exposed roots of tooth – this can cause tooth root sensitivity. Because of the toxins produced by a dental plaque, the bone enclosing the tooth becomes damaged. As a result, the roots become exposed, causing the teeth to become extremely sensitive to hot and cold temperatures.
First Aid for Toothache
For temporary relief of toothache and dental pain, you can chose from among the following home remedies:
Numbing gels
Over the counter painkillers
Salt water rinses
Cold compress
Clove oil
Dental floss
Rinse your mouth with a salt-water solution and gently floss the teeth if there is food debris trapped between the teeth.
Apply a cold compress to the cheek that is near the painful area. Take pain medications to reduce discomfort.
Avoid putting painkillers against the gums near the aching tooth. Put a few drops of clove oil on a small piece of cotton and place it against the tooth until the pain subsides. Keep the cotton in place by gently biting down on it.
If the pain lingers for more than a day, it is advisable to see a dental professional as soon as possible. If left untreated, a simple toothache can worsen and may cause unbearable pain or lead to severe infection, perhaps even tooth loss.
Toothache Emergency Care at DentArana
DentArana is open from Monday to Saturday for your dental emergency needs. Call our Arana Hills clinic as soon as possible to schedule an emergency appointment.
Contact us on (07) 3351 3366 or visit us at Shop 5 Patricks Place, Corner Dawson Parade and Patricks Road in Arana Hills.