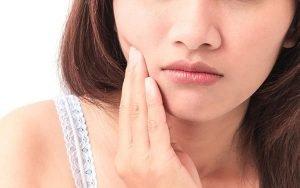 Nothing is more uncomfortable than suffering from dental discomfort such as tooth sensitivity. In fact, sensitive teeth can go beyond uncomfortable to agonising.
Sensitive teeth are a very common dental problem that can be easily triggered by eating hot and cold foods.
If you have sensitive teeth, we recommend visiting your dentist at DentArana to determine the exact cause and the right solution for your problem.
Causes of Sensitive Teeth
When your tooth enamel's protective barrier is compromised, the tooth becomes highly sensitive to cold and warm temperatures, and pressure. Here are some of the things that can cause your teeth to become sensitive:
Cracked teeth
Broken teeth
Teeth grinding (bruxism)
Aggressive brushing
Dental plaque build-up on the root surfaces
How To Reduce Tooth Sensitivity
Desensitizing toothpaste – this is the most common treatment for sensitive teeth. Desensitizing toothpaste is used as an alternative to your regular toothpaste to help block pain associated with sensitive teeth.
Fluoride – your dentist may recommend and perform fluoride treatment to treat the sensitive areas of your teeth and strengthen the enamel in order to reduce pain. Using fluoride toothpaste may also be recommended.
Dental bonding – a putty-like tooth-coloured resin is applied to the exposed root tooth surfaces. In some cases, local anaesthetic may be required during the procedure.
Gum graft – this is a surgical procedure performed by an oral surgeon if a tooth has lost gum tissue. A small amount of tissue is taken from your mouth and attached to the affected area.
Root canal therapy – if other dental procedures are not effective in eliminating the severe pain, your dentist might recommend root canal therapy. The procedure involves treating the core of the tooth, the dental pulp. Root canal treatment is the most successful solution in eradicating tooth sensitivity.
Prevention For Sensitive Teeth
If you don't want to undergo a dental treatment, it's best to prevent having sensitive teeth in the first place. Here's how:
Avoid brushing your teeth too hard. Be gentle to your teeth. Use a toothbrush with soft bristles, which is gentle on your teeth and gums.
Reduce drinking sugary and acidic beverages, such as fizzy drinks and citrus fruit drinks. These types of drinks erode your enamel and expose the dentine.
Avoid brushing teeth right after consuming acidic drinks since acids make the enamel softer and vulnerable to erosion when brushed.
If you grind your teeth at night, tell your dentist about this on your next visit. Your dentist will recommend a night appliance (splints) to prevent your upper and lower teeth from contacting each other, and reducing the grinding activities.
Sensitive Teeth Solutions in Arana Hills
Though sensitive teeth are not considered a dental emergency, the pain can still cause you hassle and pain, and may affect your daily routine. The best way to eliminate the sudden jolting of pain is to visit your expert dentists at DentArana in Arana Hills.
We take a proactive approach in addressing all your dental needs and problems. If you want to preserve the health and beauty of your smile, start your journey with us here at DentArana.
New Patients Specials
Pay No Gap : NO GAP for Exam, Clean and Scale (with any health insurance) for under 17
No Health Insurance : Only $99 for Exam, Clean and Scale (under 17's)
Contact us on (07) 3351 3366 or visit us at Shop 5 Patricks Place, Corner Dawson Parade and Patricks Road in Arana Hills.