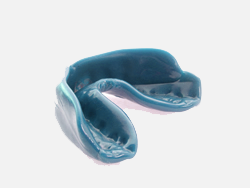 A mouthguard is the very best protection you can offer your smile.
Imperative during any form of contact sport, a properly fitting mouthguard can prevent broken teeth as well as injuries to the lips, tongue, face or jaw.
Accidents can happen all the time during sport.
The Importance of Mouthguards
A mouthguard will help cushion any blow to your face, which could otherwise result in tooth loss. Chips or broken teeth, nerve damage to a tooth and even tooth loss are all much more likely to occur if you are not wearing a mouthguard.
Correctly fitting mouthguards will stay in place whilst you are wearing them, enabling you to breathe and talk as usual.
Who Should Wear Mouthguards?
Anyone who participates in a sport that carries a significant risk of injury should wear a mouthguard. These include sports such as football, hockey, basketball, baseball, gymnastics, volleyball and martial arts.
High-quality Mouthguards in Arana Hills
A properly fitted mouthguard is especially important for people who wear braces or have fixed bridgework because it will protect the brackets or other fixed orthodontic appliances, and also provide a barrier between the braces and your cheek or lips, so reducing the risk of soft tissue injuries.
At DentArana we create custom-made mouthguards for your individual dental needs.
In case of a dental emergency, DentArana offers a same day emergency appointment.
Contact us on (07) 3351 3366 or visit us at Shop 5 Patricks Place, Corner Dawson Parade and Patricks Road in Arana Hills.