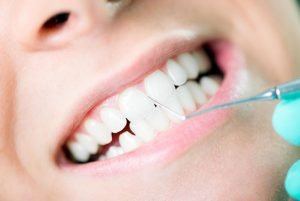 Periodontal Disease or Gum Disease is an inflammatory disease caused by bacterial infection. It is the most common infectious disease in the world, which if left untreated it may lead to tooth loss.
Periodontal literally means 'around the tooth'. Healthy gums are pale pink, smooth and firm, fitting your teeth like a turtleneck jumper fits your neck.
However if an infection develops between the teeth, the gums will begin to pull away, become red and swollen and even bleed during chewing and brushing.
Gum Disease Treatment
Previously, extraction was virtually the only option for patients suffering from gum disease.
As dentists, through the continual developments in periodontal treatment, we take every possible step to save all teeth and repair the gums.
Although Periodontal Disease is a serious condition, its effects can be stopped and the disease progression halted with proper dental treatment.
Evaluate Your Gum Health
Ask yourself the below questions to better understand your gum health:
Do your gums bleed when you brush or floss your teeth?
Are your gums red, swollen or tender?
Do you have sores in your mouth?
Are your gums receding; have they pulled away from your teeth?
Do your teeth appear longer than they have in the past?
Are there spaces developing between your teeth?
Do you suffer from bad breath?
Do you have a constant bad taste in your mouth?
Are your teeth more sensitive than usual?
Are any of your teeth loose?
Is there any change in the way your teeth fit together when you bite?
If you answered 'yes' to any of the above questions, we recommend that you visit our Arana Hills surgery as soon as possible for a thorough examination.
New Patients Specials
Pay No Gap : NO GAP for Exam, Clean and Scale (with any health insurance) for under 17
No Health Insurance : Only $99 for Exam, Clean and Scale (under 17's)
Contact us on (07) 3351 3366 or visit us at Shop 5 Patricks Place, Corner Dawson Parade and Patricks Road in Arana Hills.