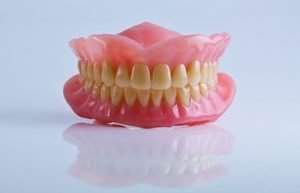 Dentures are removable false teeth attached to a plastic called acrylic, or metal called cobalt.
Our dentists will ensure that new dentures closely resemble your natural teeth so that little change in appearance will be noticeable. Dentures will improve the look of your smile and help fill out the appearance of your face and profile.
Dentures also improve chewing ability and speech while providing support for facial muscles.
Types of Dentures
There are two main types of dentures, full dentures and partial dentures. We at DentArana work with you to determine the best form of denture treatment for your individual needs.
Whilst dentures do take some getting used to, modern dentures are natural looking and more comfortable than ever.
Care for Dentures
Dentist advice to help care for your dentures to avoid denture breakage:
When handling your dentures, stand over a folded towel or basin of water. Dentures are delicate and may break if dropped
Don't let your dentures dry out. Place them in a denture cleanser soaking solution or in plain water when you're not wearing them. Never use hot water, which can cause them to warp
Brushing your dentures daily will remove food deposits and plaque and help prevent them from becoming stained
Brush your gums, tongue and palate every morning with a soft-bristled toothbrush before you insert your dentures. This stimulates circulation in your tissues and helps remove plaque
See your dentist if your dentures break, chip, crack, or become loose
Don't be tempted to adjust them yourself as this can cause damage beyond repair.
High-quality Dentures at DentArana
Your trusted and skilled DentArana dentist can help you choose the right denture that suits your needs. If you are looking for high-quality restoration and superior work on restorative treatments such as dentures, visit us at DentArana.
Same day emergency appointment available for broken dentures.
Contact us on (07) 3351 3366 or visit us at Shop 5 Patricks Place, Corner Dawson Parade and Patricks Road in Arana Hills.