Whether you have a toothache or you want to improve your smile for greater confidence, contact us today here at DentArana. We have a team of specialists here who carry out routine check-ups and advanced procedures. 
Dentist Upper Kedron
Patients often choose us because of our expertise, breadth and depth of experience and our friendly and courteous approach during each check-up or procedure. 
We provide a comprehensive range of dental services which include the following: 
General dentistry

 

Teeth whitening

 

Crowns, bridges and dentures

 

Dental implants

 

Orthodontics

 

Endodontics

 

Restorative dentistry

 

Oral surgery

 

Periodontal disease treatment

 

TMJ diagnosis and treatment

 
Whether it's preventive, restorative, cosmetic or emergency dentistry, our experience and expertise always help deliver excellent outcomes to our patients. In addition, we take the time to explain each treatment option so patients know what to expect during and after the procedure. 
Dental services Upper Kedron
Problems about your teeth and gums can make you lose sleep and affect your overall mood and productivity each day. Even if it's just a mild pain or you noticed something unusual on your teeth and gums, you should visit a dentist right away. A prompt diagnosis and treatment can help spare you from costly and invasive procedures. 
You can come to us if you have any of the following:  
Toothache

 

Teeth stains

 

Tooth decay

 

Bleeding in the gums

Persistent bad breath

 

Knocked out or chipped tooth

 

Painful or uncomfortable biting and chewing

 

Sensitive teeth when consuming hot or cold food and beverages

 
Aside from the usual dental procedures to save a tooth or get rid of a toothache, we also have the capabilities and experience to carry out the following (mostly for improving smiles and greater comfort): 
Sleep and apnoea treatment

 

Treatment of temporomandibular disorder

 

Anti-wrinkle injections (diminishes fine lines and prevents onset of wrinkles)

 

Laser therapy (helps relieve dental pain and discomfort and accelerates healing)

 

CGF and micro-needling (reverses wrinkles and scars for a younger-looking skin)

 

Threadlift (a less invasive way to reduce sagging skin around the neck, cheeks and jawline)

 

Platelet-rich plasma facial (stimulates elastin and collagen production)

 
We keep ourselves updated about the latest developments in dental science. This way, we can always carry out the most effective procedures and ensure long-lasting outcomes. 
Book an appointment with us whether you have a problem with your teeth and gums or you want to significantly improve how you smile. You can get to us within minutes via Upper Kedron Rd and Samford Rd / State Route 22.  
New Patient Specials
New Patient Offer: $199* for the first general exam, clean and scale for new patients.
Pay No Gap: NO GAP for a general exam, clean and scale with any health insurance (under 17's)*
No Gap Mouthguards: or $99 without health insurance.
No Health Insurance: $99 for a general exam, clean and scale (under 17's)*
FREE Consultation
Book a complimentary consultation for any of our services, including dental implants, cosmetic dentistry, smile make-overs, orthodontics and anti-wrinkle injections.
*terms and conditions apply to all promotions
schedule your
next

dental appointment today!

or visit us in store and talk to one of our friendly staff.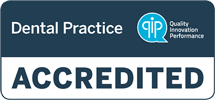 We are thrilled to share the fantastic news that we have achieved full accreditation from QIP (Quality Innovation Performance). This accomplishment affirms our commitment to delivering top-tier dental care and making a lasting positive impact on the oral health of families within our local community. QIP accreditation is a voluntary acknowledgment that underscores our dental practice's dedication to providing exceptional dental services while continuously elevating our patient care standards. The accreditation process revolves around seamlessly integrating the National Safety and Quality Health Service Standards (NSQHS) into our daily operations, with an unyielding emphasis on patient safety. Working hand in hand with QIP, the Australian Dental Association developed this accreditation framework for dental practices, focusing on the six National Safety and Quality Health Service Standards relevant to the field of dentistry.