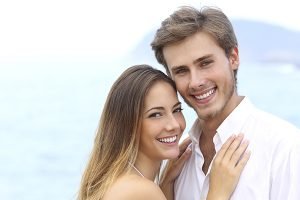 Talk To DentArana About A Smile Makeover
Do you have complete confidence in your smile? A three-second flash of your awesome smile can give a great first impression … or not.
The importance of a stunning smile cannot be overestimated, and everyone deserves a brilliant smile.
But, if you've become resigned to having stained, crooked, or misaligned teeth, and have forgotten the effect of a big, powerful, bright smile on others, you should spend a few minutes talking to us at DentArana about a smile makeover – a flexible and effective tool to build your perfect smile.
A consultation may reveal that a smile makeover is the perfect approach in moving your smile to the next level.
Your personalized smile makeover may consist of either cosmetic or reconstructive dentistry treatments, or both, all designed to improve the overall appearance and health of your smile. But you will never know unless you visit us at DentArana, today!
Smile – Science Tells You To!
Medical studies have reported that when a human sees another smiling face, the area of their brain called the orbitofrontal cortex responds in a way that is a lot similar to receiving a "reward." People feel good when they see other people happy or smiling, even if they are not the direct cause of them doing so. Your smile directly affects other people, whether they know it or not.
Furthermore, face research in 2011 showed that when tested, both men and women were far more likely to gravitate towards images of people who are smiling, as opposed to those who did not. Other studies have showed clear correlations between attractive smiles and social and workplace success, including higher hiring rates and starting salaries.
Your smile is more than just a reward for others, it also brings rewards to you!
A Makeover for Your Smile?
If you are dissatisfied with the appearance of your smile, you are likely a good candidate for a smile makeover. Good smile makeover candidates generally have more than one of the following common cosmetic dental problems:
Bite conditions such as crossbite, overbite and underbite
Chipped teeth
Cracked teeth
Crooked teeth
Decayed teeth
Discoloured teeth
Gapped teeth
Gummy smile
Misshapen teeth
Missing teeth
Unevenly spaced teeth
Fine lines and wrinkles around the jaw
What Can a Smile Makeover Remedy?
A smile makeover is a comprehensive dental process that improves the appearance of your smile.  Because of its flexibility, a smile makeover can help with many dental issues including:
Tooth Colour: If you have discoloured teeth as a result of aging, your food or drink diet, or other yellowing factors, a smile makeover can give you a brighter, younger looking smile.  Teeth whitening (In-office, or professional at-home) can brighten the colour of stained teeth. In some cases porcelain veneers, crowns, or dental implants may be better solutions.
Spacing: Gapped teeth may be aligned properly or the gaps may be filled.
Alignment: Misaligned teeth can be straightened and aligned using orthodontics such as conventional braces or In some cases veneers may be used.
Missing Teeth: Missing teeth can be replaced with dental implants or bridges.
Chipped, Cracked, or Uneven Teeth: Teeth that are chipped, cracked, or uneven can be cosmetically bonded to improve appearance.
Collapsed Face: A 'collapsed' or aging face can be improved by procedures that build fuller lips, cheeks, and smiles.
Tooth Length: A treatment for shorter teeth may include the reshaping and lengthening of teeth, using composite bonding or porcelain veneers.
Tooth Proportions: A proportionate smile gives the appearance of good overall health.  Your DentArana dentist will design a treatment plan that dramatically enhances the balance and aesthetic appeal of your smile.
The flexibility of the tools that can be used in a smile makeover means that it can be used for a variety of issues. In fact, while most of the 'immediate' problems that a smile makeover addresses are cosmetic, the makeover often also fixes existing functional problems such as poor bite and even prevents further issues in the future!
A Consultation in Arana Hills
If you would like to improve your smile, we suggest you contact us at DentArana, immediately. We will examine you to ensure that you are not suffering from tooth decay, infection, or gum disease.
If you are, we will address these issues first. The examination will also help us see what can be corrected with your smile and the best way to do it. Next, we will talk to you about what you like and don't like about your smile, your goals, your timetable, and your budget.
Once we have all that information, and have identified what is to be done, we will recommend a course of treatment for your smile makeover, if it is the proper treatment.
The DentArana Advantage
Our dental practice also has the latest technology to help achieve the highest standards of patient care. We use cutting edge tools like digital dental x-rays and intra-oral cameras. Our expert staff is well trained and keeps current on dental practices and technologies.
Our Cosmetic Dentistry Special Offers
FREE Consultation:
Smile Makeover
Cosmetic Dentistry
Dental Implants
Orthodontics
Contact us on (07) 3351 3366 or book your appointment online today.