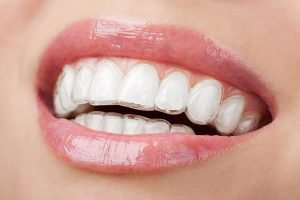 Invisalign is the greatest advancement in Orthodontics so far.
Using clear, removable retainers, Invisalign is the invisible way to straighten teeth and removes the need for metal braces.
Through Invisalign technology it is possible to straighten your teeth without being noticed. Using advanced 3-D imaging equipment, custom-made aligners are formulated in accordance with your oral situation.
Patients can also view the expected final results of straightening on our monitors prior to undergoing treatment.
How Invisalign Works?
Invisalign manoeuvres teeth into their desired position using series of custom aligners, which exert mild pressure in the required areas, with each being worn for approximately two weeks.
The Benefits of Invisalign
Invisalign offers exceptional benefits to patients. Requiring no metal brackets or wires, Invisalign reduces mouth irritation and oral sores generally associated with traditional braces.
They also limit the amount of time spent in the dental chair.
Invisalign retainers are removable and therefore do not impact your dietary or oral hygiene habits.
Suitable for the majority of adults and adolescents, Invisalign is a breakthrough in orthodontic treatment and mean that a perfect, straight smile is closer than you think!
DentArana Offers Invisalign!
If you are looking for a discreet and comfortable solution for your smile and bite issues, visit us here at DentArana. We are a certified Invisalign provider at our Arana Hills practice.
Contact us on (07) 3351 3366 or book your appointment online today!