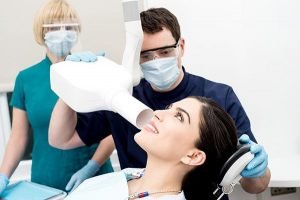 At DentArana, we invest in the latest dental innovations to provide you and your family with the best dental care possible. One of the modern technologies we offer is digital X-rays.
Digital dental X-rays emit low radiation compared to traditional variants. That's why they are safer for children and even pregnant women. We use state-of-the-art digital X-rays to provide faster and more efficient results in your treatment.
Why are Dental X-rays Important?
With X-rays, your dentist can detect problems not visible to the naked eye. Without this revolutionary equipment, some dental problems might develop and advance undetected.
Dental X-rays are used to:
How Often Can You Get A Dental X-Ray?
Your dentist can determine how often you should receive X-rays. Typically this depends on your current oral heath condition and other factors such as your age, lifestyle, and risk for disease. Children may require X-rays more frequently as their teeth and jaws are still developing. And unlike adults, children are more susceptible to tooth decay.
Your dentist will perform a comprehensive examination of your mouth, medical history, and specific needs. Your dentist will decide if you need X-rays and how frequently you should have them.
Dental X-rays and Pregnant Women
Dental X-rays are safe for pregnant women and for those who are planning to conceive. If you are pregnant, notify your dentist about your condition.
To protect yourself and your baby, your dentist will provide you a leaded apron and thyroid collar, which you need to wear before taking X-rays images. X-rays are an essential part of your dental care treatment plan as pregnancy puts you at risk of certain dental problems such as gum disease.
Digital X-rays at DentArana
If it has been a long time since your last dental X-ray, be sure to schedule a visit to your Arana Hills dentist at DentArana. We use modern digital X-rays that emit low levels of radiation. Our practice is dedicated to using dental equipment that will benefit your health and safety.
At DentArana, we are not just about your oral health. We want to help you achieve your full potential by eliminating pain and improving your overall wellbeing with our unique health care services and advanced dental technology.
Contact us on (07) 3351 3366 or visit us at Shop 5 Patricks Place, Corner Dawson Parade and Patricks Road in Arana Hills.