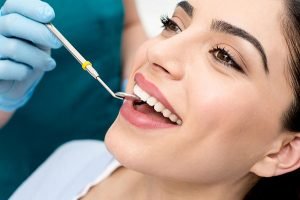 Dental Bonding And Your Teeth
When your teeth shine, so does your smile. But if you aren't happy with the appearance of your teeth, you may find yourself hesitant to smile and put your teeth on display.
Stained teeth, irregular teeth, chipped teeth, gapped teeth, even teeth that 'look' too short, can all affect our smiles.
At DentArana, we can help your overcome this burden, ridding you of that self-conscious feeling with our quick, easy tooth bonding.
Tooth bonding is a procedure in which a tooth coloured resin material is applied and hardened with a special light. This "bonds" the material to the tooth to restore or improve your smile.
To decide if dental bonding is the right treatment for you, it is necessary to know a bit about the procedure, including how it is done, how long it lasts, and what you can do to keep your bonded teeth looking great.
Read on, and DentArana will clue you in on everything you need to know about tooth bonding!
When is Tooth Bonding Right for You?
Dental bonding is a quick, affordable and proven dental treatment that is used both to restore teeth and to improve their appearance. Whether you need to fill a cavity, repair a chip, or close a minor gap, dental bonding is an excellent choice to restore your smile with optimal aesthetics.
Bonding is appropriate treatment for:
Discoloured teeth
Chipped or cracked teeth
Decayed teeth
Diastemas (spaces between teeth)
Abnormally shaped or short teeth
Teeth that need amalgam filling replaced
What are the Steps of Tooth Bonding?
Bonding is usually painless, and does not require anesthesia unless a filling is being placed as well. A few patients report an increase in tooth sensitivity for a short period after the bonding procedure, but this goes away over time.
First, your tooth will be "blocked off" from other teeth and the gums to avoid moisture. Your dentist then applies a very mild etching solution that slightly roughens the tooth surface, allowing the bonding material more adherence. This does not cause pain or discomfort.
Next, a bonding agent is applied and your dentist will place composite resin on the natural surface of your tooth. This will further be shaped and properly sculpted.
Next, a high intensity light will be used to harden the composite layer. These steps will be repeated until the resin has achieved the size and shape that is right for your restoration.
Finally, the tooth will shape and polished to its best possible appearance and you will be able to leave our office with a new and improved smile!
Maintaining Your Bonded Teeth
The good news is that bonded teeth can last a long time – in some cases over ten years. But to ensure a long lifespan you must take care of them.
The first step is to follow normal dental hygiene procedures. Brush twice a day with a soft-bristled toothbrush and don't use baking soda or abrasive toothpastes. Floss once a day. And see your DentArana dentist for regular checkups and cleaning.
When it comes to bonded teeth, an ounce of prevention is worth a pound of cure. Try not to bite or use excessive force, as this can lead to fractures. Stay away from foods like corn on the cob, apples, or hard candies, which place too much force on teeth, particularly front teeth. The same is true of acidic and staining foods – they are not optimal for your bonded teeth.
No one can predict how long a bonded tooth will last, but good dental care and some attention to what you eat is your best bet at having your bondings for a very long time!
FREE Cosmetic Consultation at DentArana in Arana Hills
Our dental practice also has the latest technology to help achieve the highest standards of patient care. We use cutting edge tools like digital dental x-rays and intra-oral cameras. Our expert staff is well trained and keeps current on dental practices and technologies.
DentArana offers FREE Consultation for Cosmetic Dentistry and Smile Makeover.
Call us on (07) 3351 3366 or simply book your appointment online today!