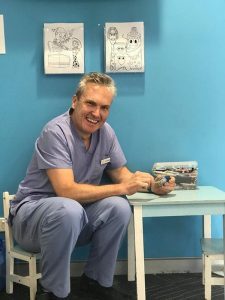 KIDS WEEK at DentArana has the inner child in all of us coming out!
We have had the joy these school holidays of looking after our younger patients as they take advantage of our Affordable Dentistry For Kids Program.
The DentArana team has ELEVEN children between us, so we understand there was a huge need for us to help our local families with the cost of dentistry for their kids!
Kid's Dentistry has never been more affordable!
We offer BULK BILLED – that means FREE to you! – dentistry to those children who can utilise the Child Dental Benefits Schedule (CDBS).
Up to $1000 worth of dental treatments are available for your child. The program covers:
Dental check-ups
Dental cleaning
X-rays
Tooth fillings
Fissure sealants
Tooth extractions
It's easy to find out if you are eligible! Learn more in our CDBS page.
Not eligible for the Child Dental Benefits Schedule but have Private Health?
We have something for you too! Rebate ONLY – that means NO COST TO YOU! for:
Comprehensive check
Thorough clean
Strengthening fluoride treatment
Preventative X-rays
So save your money for more fun school holiday activities and take advantage of our Affordable Dentistry For Kids Program!
The Importance of Children Dentistry
Caring for your child's teeth at an early age impacts his/her oral health in the future. At DentArana we do not only help keep children's teeth strong and healthy, but we also teach them how to keep their teeth at their best! Habit formation and values development are imbedded in our children dentistry services.
Our children dentistry services emphasise preventative dentistry for early detection of dental issues and stopping their progress. We also provide treatment for common dental problems such as decay, crooked teeth, and obstructive sleep apnoea.
P.S. Have a child who isn't thrilled about getting their teeth checked? We have a treasure chest full of goodies for them to pick from once they are finished with one of our friendly Dentists.
When Should My Child Visit The Dentist?
The best time is NOW. Schedule your child's dental appointment before any dental problem arises.
Just because they still have baby teeth does not mean that they don't need a dentist's help. Baby teeth are just as important as permanent teeth. Take a look at these five primary reasons:
Keep space for proper permanent teeth alignment.
Allowing development of jawbone and muscles.
Proper chewing and eating.
Appropriate speech development.
Self-esteem.
DentArana, Your Trusted Family Dentists in Arana Hills
Enjoy affordable and quality kid's dentistry for your child today! DentArana is your trusted family dentists in Arana Hills catering to your children's dental needs.
Child Dental Benefits Schedule
Bulk Bill for children who are eligible for MEDICARE CHILD DENTAL BENEFIT SCHEDULE
Up to $1000 worth of dental treatments over two years
Learn more about Child Dental Benefits Schedule.
Call
(07) 3351 3366
or visit us at Shop 5 Patricks Place, Corner Dawson Parade and Patricks Road in Arana Hills
Related Content: