5 Tips To Get You Ready For Your Dental Appointment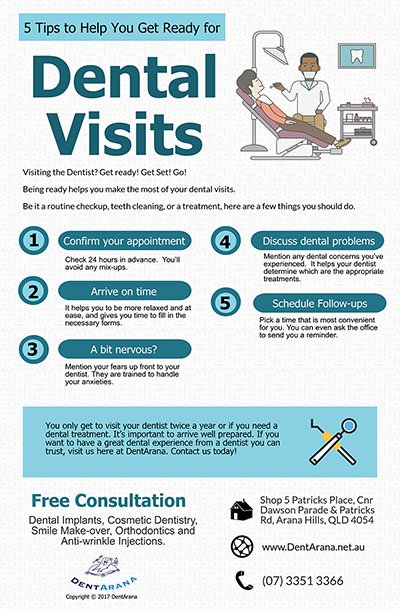 It's that time of the year again. You get to meet your dentist for your regular check up where you obediently open your mouth as he prods and pokes around.
For some this can be very stressful. Just the image of those shiny tools is enough to keep them at home, feigning sickness.
But there's really nothing to worry about! Your dentist is your teeth's best friend and they're all very excited to be prodded and looked at to maintain their glittery pearliness.
So here are the five very easy tips to keep the butterflies in your stomach at bay and make your dental visit a wonderful experience.
#1. Confirm your appointment.
Call in advance to confirm your appointment. Double check the date and the time and jot them down so you wont miss a thing.
#2. Arrive on time.
A lot of complications result from arriving late for your appointment. You might panic, lose composure, and the time your dentist spends with you will be shortened. So make sure you arrive in time. Arriving a few minutes before your scheduled time is actually great too!
#3. A bit nervous?
Can't stop looking at that large machine in the background? Afraid the dentist will discover something gruesome hidden in your mouth? Tell your dentist! They are trained to keep you calm and shoo all your fears away.
#4. Discuss dental problems
Spill the beans! Don't be afraid to tell your dentist your concerns or worries. This way he can assure you or give you tips to solve them.
#5. Schedule follow-ups
Keeping your teeth healthy doesn't end with just one visit. Schedule your next visit. You can request that the office send you a reminder to make sure you won't forget.
There you go! Those are all simple steps but if you follow them, they'll make you look forward to another visit.
Hassle-Free Quality Service At Dentarana
DentArana wants to make your every visit a wonderful experience. Our friendly staff and highly trained dentists will guide you through the whole process quickly and smoothly. It's a hassle-free quality service for your perfect smile!
Call us on (07) 3351 3366 or request your appointment online today!