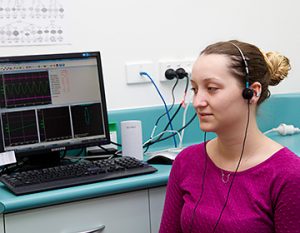 If you grind your teeth, suffer from frequent headaches, dizziness, facial pain, a stiff neck, earaches, back pain, or popping jaw joints, then you may be one of many undiagnosed Temporomandibular Joint (TMJ) Dysfunction sufferers.
There are many ways of treating and managing TMJ. Treatments can range from holistic therapies and splints, to surgeries. If left untreated, TMJ disorders can cause other issues such as malocclusion and tooth damage.
You don't have to deal with the pain brought about by TMJ disorder. You can set an appointment with DentArana today for immediate relief. We offer comprehensive diagnosis and treatment for TMJ disorder to patients throughout Arana Hills.
What is TMJ?
The TMJ Joint is comprised of the two joints located in front of the ears. These joints attach the lower jaw to the skull and are important in several ways.
The TMJ Joint is responsible for performing functions such as opening and closing the mouth, chewing, swallowing, breathing, talking, yawning, and even kissing.
TMJ Dysfunction
TMJ Dysfunction is the name given to conditions affecting this joint. Instigated by a bad bite, TMJ Dysfunction can be extremely painful and cause chronic facial pain for sufferers.
The key contributor to TMJ Dysfunction is stress. Stress causes the patient to clench down on the jaw, which compresses the jaw points and eventually results in bad bite.
A popping sound on opening and closing your mouth is a very common occurrence in TMJ Dysfunction. In such cases the jaw disc is generally dislocated.
Symptoms of TMJ Dysfunction
Pain and tenderness in or around the ear
Pain in the jaw joint, or the muscles of the jaw
Pain and tenderness in face or temples
Problems opening or closing your mouth
Shortened teeth due to grinding
Clicking, popping, crunching, or grinding noise when you chew or open your mouth
TMJ Dysfunction may be connected to neck pain and headaches. If you have any of the symptoms mentioned above, tell your dentist as soon as possible.
TMJ Treatment at DentArana
At DentArana we are able to diagnose and treat patients suffering from TMJ Dysfunction with treatment varying depending on the severity of each individual case. Some TMJ disorders can be addressed using orthodontic treatments. 
Call us now to make a consultation to discuss your TMJ concerns with our team.
Contact us on (07) 3351 3366 or visit us at Shop 5 Patricks Place, Corner Dawson Parade and Patricks Road in Arana Hills.