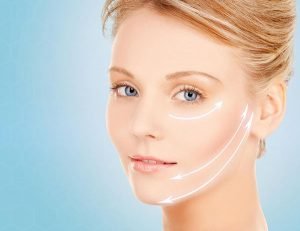 What is Threading?
Threading is a non-surgical Mini Facelift for the treatment of ageing saggy skin using absorbable & revitalizing threads that are placed under your skin, involve no general anaesthesia, have minimal downtime, and is suitable for both men and women.
The Threading Procedure
This procedure is quicker and less invasive than a facelift, has a faster healing time and is of lower cost.
The threads used are made from polypropylene that have none or evenly spaced tiny barbs the entire length of the thread. They are inserted under the skin and lift any sagging tissues of the face, neck and brow.
It is during the next 6-9 months that the collagen surrounds and contracts around each thread as it gradually dissolves, thereby the newly created collagen sustains the lift created resulting in a more natural revitalised appearance.
An incision can be made directly above each ear hidden in the hairline. The threads are anchored at the incision and are minimally invasive and therefore leave no tell-tale signs of surgery or any visible scars. This can help produce a younger looking you with the added benefit of removing any loose sagging skin.
Dr Lo-An Vu
Lo-an is a member of the AADFA (Australasian Academy of Dento-Facial Aesthetic), trained and qualified in providing anti-wrinkle treatments, dermal fillers, CGF facials and Threading.
Read more about Dr Lo-An Vu by visiting Our Team page.
DentArana Offers Facial Threading
Experience the amazing benefits of Threading procedure here at DentArana!
Our practitioner can offer you a free consultation to advise and determine which treatment options are the best for you.
For more information about the Threading procedure, contact us on (07) 3351 3366 or visit us at Shop 5 Patricks Place, Corner Dawson Parade and Patricks Road in Arana Hills.