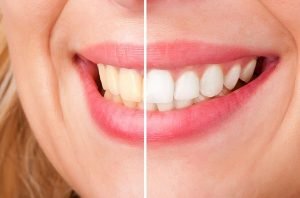 Whitening your teeth will improve not only your appearance but also your confidence! Teeth whitening allows you to remove light to moderate stains and discolouration from teeth.
Our skilled dentists know what teeth whitening system works best for your smile. DentArana only provides professional-grade tooth whitening solutions that are effective, safe, and long lasting.
We can transform your smile in just a few days. Once you achieved your desired result, you will never have to hide your smile again.
Professional Home Whitening Procedure
One-hour teeth whitening procedures are a common trend in cosmetic dentistry. These procedures are suitable for individuals who don't have the luxury of time to whiten their teeth at home and want to get instant whitening results. However, this method can increase sensitivity of the teeth and gums. Also, the initial whiteness is often the result of dehydration of the teeth.
At DentArana, we employ a gentler, supervised take-home dental whitening kit. This tooth whitening method is ideal for patients who want to perform the treatment in the comfort of their own home. Your DentArana dentist will provide precise instructions on how to use the custom trays correctly.
The Tooth Whitening Procedure
It is as simple as following these few steps:
Make an appointment for a professional clean and polish, as you don't want to be whitening possible tartar build up. This will get you the best possible outcome.
Impressions are taken to make the personalised trays.
A few days later you're ready to start whitening.
Within a week you will notice a distinct difference in colour, in most cases 4 – 5 shades.
Wear trays for 1 hour in morning and 1 hour at night.
Benefits of Home Tooth Whitening Kits
The whitening trays fit comfortably over your teeth
The trays prevent any bleaching gel from spilling out onto your gums
Provides patients with greater control over the final colour of teeth
The whitening trays can be reused in the future to top up the results
Teeth Whitening Consultation at DentArana
If you are dreaming of a brilliant, white smile, call or visit our DentArana clinic in Arana Hills today. Teeth whitening is a straightforward and non-invasive cosmetic dental treatment suitable for a wide range of patients. Discover how our at-home teeth whitening system can help you get a whiter smile that's healthy and long lasting.
FREE cosmetic dentistry consultation!
Contact us on (07) 3351 3366 or visit us at Shop 5 Patricks Place, Corner Dawson Parade and Patricks Road in Arana Hills.