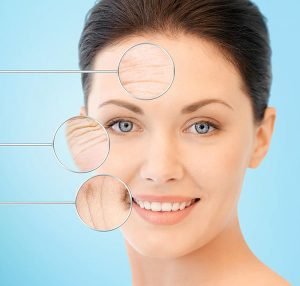 PRP or Platelet Rich Plasma is taken from a patient's blood and applied to, or injected into, your skin.
A PRP facial uses the nutrients and growth factors from a blood sample of the patient and combines them with micro-needling. In the case of a PRP facelift, the plasma can be injected into the skin.
PRP facial and PRP facelift can revitalize the skin and leave it refreshed and rejuvenated. The skin is stimulated and produces more collagen, making your skin look younger and more beautiful.
The PRP Facial Procedure
A sample of blood is taken. One tube or approximately one and a half teaspoons of blood is extracted from the arm of choice.
The blood sample is spun in a centrifuge to isolate the platelet rich plasma. Sometimes, the red blood cells are mixed with PRP, causing a red hue on the skin when the mixture is applied.
The area to be treated is numbed with a topical numbing cream, thoroughly cleaned and prepped.
Next, a micro needling device is used, which utilises a number of sterile, ultrafine needles that create small, superficial wounds in a highly controlled manner.
What to Expect During and After the Procedure?
Is it painful?
The procedure of a PRP Facial may sound a bit scary, but through numbing the area properly, it can be painless and effortless. During the micro-needling, PRP is intermittently applied to the skin. It's important that the procedure is performed by an experienced professional who specialises in this type of procedure.
The downtime from a PRP facial is minimal. Most patients can go back to their normal routine the following day. Some feel comfortable going back to their routine even on the day of treatment.
When will I see results?
This will depend on the micro-needling device that is used in the procedure. A series of four treatments, which can be separated by 4 to 6 weeks, is typically carried out. With each additional treatment, the benefits continue to build.
The results are not seen until after a few treatments. But some patients report noticeable improvements within 2 to 3 treatments.
Why does this work?
The secret of the treatment is in the platelet rich plasma. The platelet rich plasma contains key growth factors that hold regenerative and revitalising properties responsible for stimulating wound healing and collagen production – the reason it's considered to be effective in reducing fine lines and scarring as well as improving the texture and radiance of skin.
The Benefits of PRP Facial
Helps rejuvenate facial and neck skin
Reduces the appearance of fine lines and certain types of scars
Leads to smoother, softer skin once the collagen production is stimulated
Addresses under eye bags and sagging skin (when PRP treatment is combined with fillers)
Dr Lo-An Vu
Lo-an is a member of the AADFA (Australasian Academy of Dento-Facial Aesthetic), trained and qualified in providing anti-wrinkle treatments, dermal fillers, CGF facials and Threading.
Read more about Dr Lo-An Vu by visiting Our Team page.
Is PRP Facial Right For You?
PRP is not suitable for patients who have acne, melisma, or pigmentation. If you have these conditions your doctor can recommend alternatives, which might be better for you. This can include a micro-peel, laser resurfacing, photo-facial, or topical treatments.
But, if you are in search of a treatment that offers overall rejuvenation or treats fine lines, volume loss in the cheeks or under the eyes, or simply tired of fillers and laser treatments, then PRP might be a great option for you. Of course, the best way to find out if you're suitable for the treatment is to see the doctor first.
To know more about PRP treatments, call or visit us here at DentArana.
Contact us on (07) 3351 3366 or visit us at Shop 5 Patricks Place, Corner Dawson Parade and Patricks Road in Arana Hills.