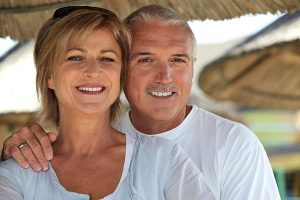 When the health of your teeth, gums, and jaws are badly compromised, your dentist may recommend complex rehabilitation to restore the function and wellbeing of your oral health.
The procedures used to re-establish oral function are undertaken with great consideration to effectively address issues concerning your face and function of your jaw joints.
This dental specialty is called Prosthodontics, which pertains to the diagnosis, treatment, rehabilitation, and maintenance of missing or damaged teeth and oral and maxillofacial tissues.
Prosthodontics Treatments
Porcelain veneers – extremely thin ceramic shells are bonded on the teeth's front surfaces to cover flaws and provide a dramatic change in appearance. Veneers are used to change the size, shape, and colour of teeth as well as close gaps between them.
Dental crowns – can be made of ceramic, metal, or porcelain fused to metal. Dental crowns are cemented on a prepared tooth that has become broken or misshapen. They are also placed after treating a tooth with root canal therapy.
Fixed bridges – another tooth replacement option that uses your existing, healthy teeth (abutment teeth) on either side of the gap to support the artificial teeth. Fixed bridges literally "bridge" the gap between your teeth with a series of linked dental crowns attached to the abutment teeth.
Dental implants – titanium posts are surgically inserted in the jaw to provide a secure foundation for replacement teeth. Dental implants are the most advanced way of replacing single or multiple teeth, and they provide the most natural-looking results and function.
Dentures – available in full, partial, or implant-supported treatment, dentures can replace several or all of your missing teeth on the upper and lower jaw. Dentures can be removable or fixed, and are manufactured using high-quality materials that resemble the colour and shape of your teeth and gums.
Reconstructive Dentistry at DentArana
Prosthodontics involves cosmetic and restorative dental procedures. Whether you need a total smile makeover to enhance your smile or a restorative dental work to fix the damage caused by disease, injury, or trauma, your dentist at DentArana plays an important role in the procedure.
At DentArana, our skilled dentists can also perform oral cancer screenings, as well as, diagnose and treat problems jaw problems (such as temporomandibular joint disorder or TMJD) and obstructive sleep apnoea (OSA).
In addition, we closely work with our dental laboratories and skilled dental technicians to ensure that we are able to fabricate life-like, durable, and natural-looking restorations made from high-quality materials. Through this, we guarantee that you are getting the best value for your treatment at DentArana.
FREE dental implants Consultation and dental implants guide.
Contact us on (07) 3351 3366 or visit us at Shop 5 Patricks Place, Corner Dawson Parade and Patricks Road in Arana Hills.