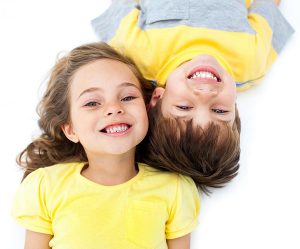 Orthotropics is a technique used to straighten crowded teeth and correct facial growth patterns. Developed by Dr. John Mew of London, England, Orthotropics is a specific type of "facial growth guidance".
According to studies, the way the face grows can be negatively affected by postural changes. In cases in which a face grows incorrectly, Orthotropics can basically change and improve it with proper posture.
Orthotropics has been used for many years and its goal is to help guide the mouth to grow into the idealized bite position and shape using removable or fixed orthopedic appliances.
Causes of Poor Mouth Posture
Poor mouth and facial development can be caused by several factors, which can occur very early on in life. Breastfeeding, diet, and nutrition can all influence a person's oral posture.
When the lower and upper jaws fail to develop horizontally, they drop down and back. If the teeth on the lower jaw drop more than the upper teeth, the upper front teeth stick out or protrude. Normally in these cases, the upper and lower jaws are also too far back in the face, so they need to be brought up and out. The upper jaws typically require widening in order to develop a palatal shape that will hold a normal tongue posture.
How Orthotropics Works
The treatment and philosophy of Orthotropics focuses on proper and harmonious facial development. The technique corrects poor growth patterns of lower and upper jaws – excessive vertical growth and lack of horizontal growth.
Orthotropics is most effective for children under 10. It can work for older children, too; however, the results may be more limited and larger spacing may result between the back teeth on the upper jaw. There are also other methods that can be added to Orthotropics. These include reverse-pull headgear and myofunctional therapy.
The removable orthopedic appliance, which is worn 24 hours a day, guides the development and growth of the child's muscles, teeth, and bone into their proper shape and relationship without the involvement of surgery and extraction procedures. Orthotropics is more face-centred than tooth-centred. As a result, it can significantly improve crowding and may prevent the need for jaw surgery in the future.
Orthotropics vs. Orthodontics
The child is taught to hold their teeth and lips together as well as keep the tongue to the roof of their mouth to encourage the lower jaw to grow forward. Though this is not easy for a child, this technique really works!
The results of Orthotropics are more often compared to the alternative of jaw surgery than to orthodontic treatments, which aim to fix the bite by bringing the teeth of the upper jaw backward. Orthotropics attempts to avoid pulling teeth backwards. As a result, it can increase the airway size and make the patient's face more attractive than traditional orthodontic methods.
The treatment time depends on the patient's requirements. For simple cases, the full correction is often achieved within 6 to 8 months. For severe cases, the treatment may take up to 2 years.
Orthotropics at DentArana
Orthotropics will not only promote healthy positioning of the jaw joints, but also create a full profile and a wide natural smile. It can also create a more open airway, which can address breathing problems such as mouth breathing, TMJ problems, sleep apnoea, and asthma.
If you want to learn more about Orthotropics and how it can help your child achieve a healthier smile, visit us here at DentArana.
Contact us on (07) 3351 3366 or visit us at Shop 5 Patricks Place, Corner Dawson Parade and Patricks Road in Arana Hills.