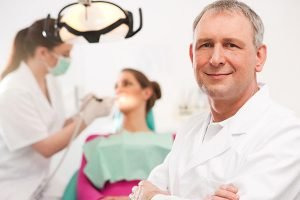 For dental problems that require more than just a cleaning or filling, your dentist may perform oral surgical procedures.
Also referred to as oral and maxillofacial surgery, oral surgery refers to a wide range of dental procedures that are used to address major issues involving your teeth, gums, jaw, and face.
Depending on the complexity of the procedure, oral surgery can be performed by a general dentist or an oral surgeon.
DentArana is comprised of board-qualified and highly skilled dental professionals who have extensive knowledge and experience in performing simple and complicated oral surgery procedures.
Common Oral Surgery Procedures
Jaw injury
Fractured jaws and broken facial bones are serious injuries, which is why their care often falls into the hands of an oral surgeon. Injury to the jaw can cause many problems, such as gum problems and damaged tissues. A skilled dental surgeon can fix any problems related to jaw injuries.
Tooth extractions
Extracting a tooth can be a modest or intricate procedure completed in one appointment. However, it's a different case for impacted wisdom teeth, as they require a more specialised treatment than a simple extraction procedure. A skilled dentist or oral surgeon can evaluate and perform the complicated procedure to extract impacted teeth.
Snoring
Snoring problems can be reduced by using night splints provided by your dentist. However, if non-surgical methods have been tried and found ineffective in solving the issue, your dentist may recommend surgery as treatment of the last resort. Snoring caused by a long, loose palate and uvula often requires surgery. The procedure may involve removing or stiffening the tissue in order to fix the noise.
Implant Dentistry
Dental implant treatment is a complex and extensive procedure. It can take several months to see the result, as the implant will be allowed to fuse to the bone before installing the final restoration. A titanium post is surgically inserted in the jawbone to provide a secure and stable support for the replacement teeth.
Across The Board Oral Surgery Procedures at DentArana
If your dental concern requires a dental surgery, it's important to choose the right dentist and practice. Oral surgery can be a risky, lengthy procedure, depending on your case. At DentArana, we only employ dental professionals who are highly experienced in handling situations that require surgical intervention.
Whether you need a simple tooth extraction, a solution for TMJ disorder or Sleep Apnoea, or replace teeth with dental implants, our skilled dental team in Arana Hills can help.
FREE Dental Implants consultation!
Contact us on (07) 3351 3366 or visit us at Shop 5 Patricks Place, Corner Dawson Parade and Patricks Road in Arana Hills.