Lost Fillings, Crown or Inlay/Onlay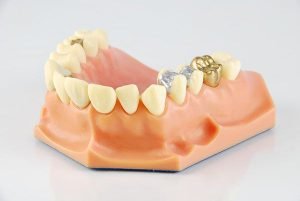 No matter how sturdy they are, dental restorations such as fillings, crowns and inlays/onlays can still be damaged for various reasons.
Dental fillings may come loose due to decay that has developed underneath them. The decay affects the shape of the tooth, which causes the filling to fit incorrectly in the tooth.
Dental crowns and inlays/onlays can also come loose because of decay. They can also be damaged because of tooth cracks or bad habits such as eating too many hard or chewy foods.
Other Causes of Lost Tooth Restorations
Inefficient bonding of tooth cement that holds the restoration, which is usually caused by contamination of the cement during the procedure
Abusing your dental crown or inlay/onlay, such as using it as a tool
Insufficient tooth structure for the crown to hold on to – this usually happens in back teeth that are short and worn down over many years
Dental First Aid for Lost Filling, Crown or Inlay/Onlay
Though losing a filling or crown is not a common dental emergency, it can still be painful, as the exposed tooth is sensitive to hot and cold temperatures.
Here's what you can do for your lost restorations:
Put a few drops of clove oil on a cotton swab and apply it on the sensitive area.
If you are able to recover the crown, you can put it back over the tooth. But before doing that, follow these steps:

Clean the inside of the crown
Apply tooth cement to coat the inside of the crown
If there's no available tooth cement, use denture adhesive or petroleum jelly
Don't use household glues as they can damage your tooth and restoration

Keep in mind that for any lost filling, crown, or inlay/onlay, you can put dental cement directly on the tooth surface. The cement protects and seals the area until you arrive at the dental clinic.
Quick Repair for Lost Restorations at DentArana
DentArana is open from Monday to Saturday for your dental emergency needs. Call our Arana Hills clinic as soon as possible to schedule an emergency appointment. We also provide dental emergency services for patients from Keperra, Arana Hills, Everton Park and Ferny Hills.
Contact us on (07) 3351 3366 or visit us at Shop 5 Patricks Place, Corner Dawson Parade and Patricks Road in Arana Hills.