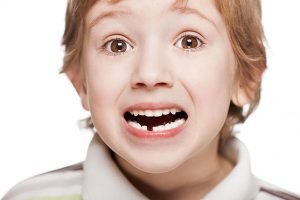 A knocked-out tooth, or avulsed tooth, is one of the most serious dental emergency scenarios, and it must be dealt with immediately. It's crucial to stay calm but quick in case you encounter such an emergency.
With quick and proper action, the avulsed teeth can be successfully replanted by your dentist and last for many years.
If you or your child's tooth is knocked out, make sure to perform first aid and visit the nearest dental clinic or emergency room within 30 minutes of injury.
Causes of Knocked-out teeth
Various circumstances that involve excessive force on a tooth may cause a tooth to detach from its socket. Some of these incidents may include:
Accidental falls
Sports-related trauma
Car accidents
Work-related trauma (such as being hit by heavy tools)
A strong blow to face
First Aid for a Knocked-out Tooth
Locate the tooth right away.
Handle the avulsed tooth by the crown (top portion) and not the root portion.
Rinse the tooth under cold running water or with some milk for a few seconds.
If possible, reinsert the tooth in its socket. If you can't reinsert the tooth, store it in a cup containing milk or saliva.
Bite down on a piece of cloth to hold the tooth in position.
See a dentist as soon as possible.
Things to remember:
Make sure that the avulsed tooth is a permanent tooth. Primary teeth (baby teeth) should not be replanted. If you are unsure whether it's adult tooth or baby tooth, just store it in a container with a small amount of saltwater, milk, or saliva, then see a dental professional right away.
Tooth Replacement Options
If reimplantation is unsuccessful, DentArana offers durable tooth replacement options such as dental implants. Your dentist will help you decide the best for your situation.
Emergency Care for Knocked-out Tooth at DentArana
DentArana is open from Monday to Saturday for your dental emergency needs. Call our Arana Hills clinic as soon as possible to schedule an emergency appointment. We also provide dental emergency services for patients from Keperra, Arana Hills, Everton Park and Ferny Hills.
Contact us on (07) 3351 3366 or visit us at Shop 5 Patricks Place, Corner Dawson Parade and Patricks Road in Arana Hills.