Functional Jaw Orthopaedics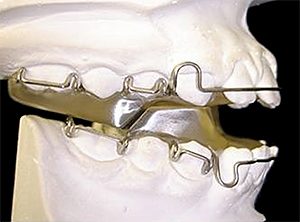 Functional Jaw Orthopaedics is the art of using Removable or Fixed appliances during the child's growth phase to address malocclusions, which have a skeletal basis. These appliances influence the growth of the developing facial and jawbones when they have the potential for rapid growth.
What Function Jaw Orthopaedics Can Correct?
Bad bites
Mouth Breathing
Improper swallowing patterns
Deep bites
Under bites
Narrow jaws and smiles
Crowding
Spacing
Thumb-sucking
Tongue Thrusts
Teeth grinding
Speech difficulties
Ear problems
Headaches
Jaw Joint Problems
All of these issues can be treated before the permanent teeth erupt and can prevent the use of fixed orthodontics, such as braces, in the future.
The Benefits Of Early Treatment Using Functional Orthopaedics
Non-Extraction Orthodontics
Appliances allow teeth to fit comfortably without resorting to extractions later on
A broad, attractive smile
Creating an attractive profile and proper lip support
Proper space for the tongue
Less chance of relapse
Functional Jaw Orthopaedics at DentArana
If you would like to find out how Functional Jaw Orthopaedics could benefit you or your child, please call DentArana to book a consultation.
Contact us on (07) 3351 3366 or book your appointment online today!