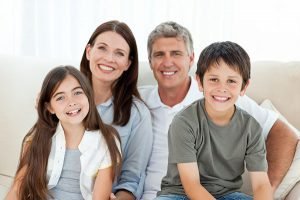 Ensure your family's oral health by having a reliable and skilled family dentist in Arana Hills. DentArana is a family-based dental practice providing a wide range of advanced general and preventative treatments and programs for children, adults, and seniors.
At DentArana, each patient is treated like a family member. We are gentle in handling and addressing your dental needs, and we make sure that you have a pleasant experience with us to ease your fear and anxieties.
If you are looking for a long-term dental care provider you can truly rely on, be sure to choose a family-friendly dental practice like DentArana, where your family's safety and wellness are our top priorities.
Why Should You Have a Family Dentist in Arana Hills?
Your family dentist ensures that you and your children will have a beautiful, healthy set of teeth that are free of dental problems.
A reputable, family dentist can provide you with excellent dental care for a lifetime. If you have dental fear, your family dentist will recommend sedation techniques to make you comfortable during procedures.
Your family dentist will take care of all your oral health needs, whether it's a simple check-up, a cosmetic procedure or restorative dental work. A suitable treatment plan is created just for you to help you achieve optimal oral health.
The Ideal Family Dentist
Looking for a new family dentist and family centred dental clinic in the Arana Hills area? Here are some tips you need to consider:
Child-friendly – Most children don't like dental appointments; thus, a good family dentist must treat children with care and understanding. It's also important that the practice maintains a child-friendly environment to help reduce the anxiety children often feel.
Experience – a reliable family dentist must be experienced with the dental care needs of children and families. The dentist must be knowledgeable in oral hygiene education, including the right diet for keeping teeth and gums in tip top shape.
Professional – the dentist must not only be friendly and skilled, a good family dentist must be professional as well. The dentist must not only be good in dealing with their patients but also capable of treating the staff and other dental specialists with compassion and professionalism.
Good communicator – the dentist must be able to explain the details of the treatment in a clear, simple way without using too many technical words that might confuse patients. A good family dentist must also answer the patient's concerns politely and honestly. It's also important to mention the costs, risks, and advantages of a procedure thoroughly so the patients have knowledge about the procedure they are going to undergo.
Emergency care – be sure to choose a family-dental practice that offers same day dental emergency services. Dental emergencies can happen anytime, and it's a great help to have a dentist who can treat you or your child on the same day.
DentArana – Your Trusted Family Dentist in Arana Hills
At DentArana we want you and your family to maintain a beautiful, healthy smile, for life. From a routine six-month check-up to advanced procedures, our extensive range of services mean that you no longer need to visit the city centre for professional dental care.
We offer the finest, state of the art dental services and strive to deliver this care in a timely manner with compassion, gentleness and concern for our patients.
Contact us on (07) 3351 3366 or book your appointment online today!