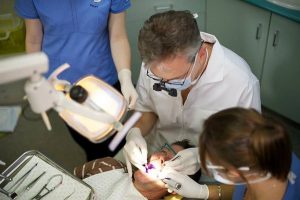 Thank you for choosing DentArana as your dental health care provider.
We are a family-owned dental clinic that has provided quality professional dental services around Keperra and Arana Hills for 13 years. We look forward to providing care for you and your family!
We offer comprehensive preventative programs as well as cosmetic and restorative dentistry. We are also dedicated to improving your overall health by including Health and Wellness services such as laser treatments for head and neck pain, vitamin C, vitamin B and Magnesium IV treatments, as well as prolotherapy.
Our dental clinic is open from Monday to Saturday, with convenient appointments on Tuesday and Thursday evenings. We welcome all emergency patients from Keperra and surrounds.
Keperra Dental Services
DentArana offers a comprehensive array of treatments and procedures because your health is our top priority.
Preventative, Cosmetic and Restorative Dentistry
Dental examinations
Scale and Clean
Breathing Retraining Program
Better Health Programs
Same Day Emergency Appointment for Keperra Patients
At DentArana, we ensure that a wide range of emergency dental appointments is readily available to you and your family. DentArana is your reliable and friendly emergency dentist ready to serve patients from Keperra who require urgent care. All you need to do is to call or visit our dental clinic as soon as possible. The quicker you visit us, the better the chances of saving your teeth and smile.
Same day emergency response guaranteed!
Our Special Offers
At DentArana, we make quality care affordable. Check out our latest special offers on our dental services, products and procedures:
FREE Consultation
Dental Implants, Cosmetic Dentistry, Smile Make-over, Orthodontics and Anti-wrinkle Injections
Anti-Wrinkle Treatment Specials
New Patients Specials
Pay No Gap: NO GAP for Exam, Clean and Scale (with any health insurance) for under 17
NO GAP Mouthguards or $99 if no health fund
No Health Insurance: Only $99 for Exam, Clean and Scale (under 17's)
Schedule Your Next Dental Appointment at DentArana Today!
Experience comprehensive and exceptional dental care at DentArana.
Call your DentArana dentist to schedule appointment your next dental appointment in Keperra. We are a family-focused dental practice, serving patients from Keperra, Arana Hills, Everton Park, and Ferny Hills. We are only 20-25 minutes drive from Brisbane CBD.
We look forward to seeing you! Contact us on (07) 3351 3366 or book your appointment online today.
Directions from Keperra