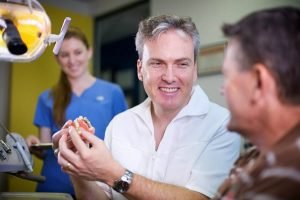 At DentArana, we strive to offer the most advanced and effective treatments that will help improve your oral health wellness and overall wellbeing.
We have been proudly serving patients from Everton and Arana Hills for 13 years. We offer high quality services that address ordinary dental issues, serious oral health diseases, TMJ Disorders, sleep apnoea, and even dental anxiety.
With our experienced, top-calibre dental professionals and employment of latest dental technologies, we can help you find relief from your dental anomalies, promote prevention, and boost the quality of your life.
Our team is dedicated to providing our Everton Park patients with the comprehensive and comfortable dental care you deserve.
Everton Park Dental Services at DentArana
DentArana provides an array of state of the art and sophisticated dental treatments ranging from preventative programs to surgical procedures and wellness services.
Preventative Dentistry
General Services and Surgical Procedures
Everton Park Same-day Emergency Dentist
DentArana ensures that emergency dental appointments are readily available to patients from Everton Park and surrounds.
We can take care of your unexpected dental emergencies from Monday to Saturday. We offer convenient appointments on Tuesday and Thursday Evenings, as well as Saturdays. If you are in pain, our skilled doctors are here to alleviate your discomfort quickly and efficiently.
Same day emergency response guaranteed!
Our Special Offers
At DentArana, we believe that dentistry is not a luxury. We offer exceptional services at affordable rates to fit your budget. Check out our latest special offers:
FREE Consultation – Dental Implants, Cosmetic Dentistry, Smile Make-over, Orthodontics and Anti-wrinkle Injections.
Anti-Wrinkle Treatment Specials – Free Consultation.
New Patients Specials –NO GAP for Exam, Clean and Scale (with any health insurance) for under 17. NO GAP Mouthguards or $99 if no health fund. No Health Insurance? Only $99 for Exam, Clean and Scale (under 17's).
Schedule Your Next Dental Appointment at DentArana Today!
Experience comprehensive and exceptional dental care at DentArana.
Call your DentArana dentist to schedule your next dental appointment in Everton Park. We are a family-focused dental practice, serving patients from Everton Park, Arana Hills, Keperra, and Ferny Hills. We are only 20-25 minutes drive from Brisbane CBD.
We look forward to seeing you! Contact us on (07) 3351 3366 or book your appointment online today.
Directions from Everton Park