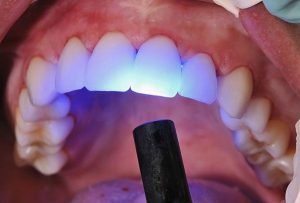 If you see cracks, decay, or discolouration forming on your teeth, your DentArana dentist can perform dental bonding to restore the healthy appearance of your teeth.
Dental bonding material is a tooth-coloured resin strategically applied to teeth that have flaws and issues. The procedure is fast, easy, and minimally invasive. Dental bonding is also one of the most cost-effective cosmetic dental procedures that DentArana offers.
At DentArana, we use natural looking bonding material that is invisible to the naked eye to provide a beautiful outcome. In less than an hour, we can dramatically improve your smile with our dental bonding treatment in Arana Hills.
Why You Need Dental Bonding?
Your dentist may recommend bonding to address several dental and aesthetic issues:
Repairing a tooth affected by decay
Repairing chips or cracks on teeth
Improving the appearance of discoloured teeth
Changing and enhancing the shape of the teeth
Closing gaps between teeth
An aesthetic alternative to silver fillings
Protecting a portion of the tooth's root affected by gum recession
The Dental Bonding Procedure
Preparation – dental bonding requires little advance preparation. Your dentist will use a shade guide to pick a resin colour that matches the colour of your existing teeth.
Bonding – your dentist will roughen the surface of the tooth before applying the conditioning liquid. This process will help the bonding material properly adhere to the tooth. The tooth-coloured resin is a like a putty substance that is applied, shaped, and smoothed to the desired form.
Curing – a special blue light is used to hardened the bonding material. After this process, your dentist will trim and shape the tooth, and polish it to match the glossiness of the rest of your tooth surface.
Completion – after the bonding process, it takes about 30 to 60 minutes per tooth to complete the treatment.
Dental Bonding Benefits
Dental bonding offers several benefits that other cosmetic dental procedures also offer. However, when it comes to the length, cost, and process of the procedure, dental bonding grabs the spotlight. Benefits of dental bonding include:
Requires little to no removal of tooth enamel; thus, it retains the health and natural structure of your tooth
A minimally invasive procedure unlike veneers or crowns
The procedure can be completed in just one visit
FREE Cosmetic Consultation in Arana Hills
A trip to your Arana Hills dentist at DentArana can be your key to achieving a healthy, perfect smile. If you are not satisfied with the appearance of your teeth, come and visit our clinic today!
Discover the amazing benefits of a beautiful smile that can last for many years. Our advanced techniques and premium materials will help you get the smile of your dreams.
FREE cosmetic dentistry consultation!
Contact us on (07) 3351 3366 or visit us at Shop 5 Patricks Place, Corner Dawson Parade and Patricks Road in Arana Hills.