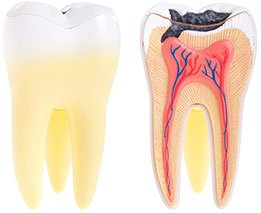 Most people don't know that a dental abscess is a serious dental emergency. The abscess produces a bacterial infection that can cause pain and swelling. The infection occurs inside and around the root of a tooth, usually teeth that have chips, cracks, or large cavities. They can also occur between the gums and a tooth.
Once there's an opening in a tooth, the bacteria can easily enter the inner parts of the tooth. The infection can spread from the root all the way to the jaws. In severe cases, it can also spread to the entire body, causing life-threatening conditions.
DentArana take care of patients with dental emergencies. We provide urgent care to patients with serious emergency cases such as dental abscesses.
Symptoms of Abscessed Tooth or Gums
Fever
General feeling of illness
Extreme pain when chewing
Toothache, with throbbing or sharp pain
Extremely sensitive teeth
Redness and swelling of the gums
Bitter taste in the mouth due to a draining sore in the gums
Enlarged neck glands
In advanced infections, swelling of the jaw
First Aid for Dental Abscess
If you notice a pimple growing on your gums or around teeth, rinse your mouth with saltwater
Make a peppermint tea to a lukewarm temperature and gargle thoroughly
Take over the counter pain medications to minimise the pain
Put a warm compress against the affected area on the jaw line
Treatment for Dental Abscess
If you are suffering from the symptoms of dental abscess, don't wait for the condition to become aggravated. This can be a life-threatening dental problem so it's advisable to visit your DentArana dentist as soon as possible.
The dentist will assess your condition and perform the best course of action. Treatments for abscess can include:
Draining the abscess
Antibiotic therapy
Dental Abscess Treatment at DentArana
DentArana is open from Monday to Saturday for your dental emergency needs. Call our Arana Hills clinic as soon as possible to schedule an emergency appointment. We also provide dental emergency services for patients from Keperra, Arana Hills, Everton Park and Ferny Hills.
Contact us on (07) 3351 3366 or visit us at Shop 5 Patricks Place, Corner Dawson Parade and Patricks Road in Arana Hills.