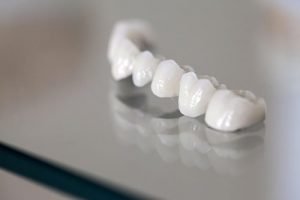 What are Dental Crowns?
As experienced dentists, DentArana provide permanent solutions to severely damaged, decayed or aesthetically lacking teeth. Porcelain crowns may be the solution for you.
Dental crowns can help recreate your beautiful smile and repair the structure and function of your teeth.
A Porcelain crown is necessary when a tooth is in poor condition; when a tooth starts to crack, break, or is decayed or diseased. These conditions may be caused by large fillings, the ageing or grinding of teeth, improper bite, poor oral hygiene, or after a root canal treatment.
Benefits of Dental Crowns
Porcelain crowns cover the entire surface area of a tooth to provide numerous benefits, and enhancing both their structural and aesthetic qualities. Increased strength and stability are the two major dental benefits provided by porcelain crowns.
The treatment produces aesthetically pleasing results and creates the same appearance, texture, translucency and colour as natural teeth. Porcelain crowns could solve your dental problem and help to recreate your stunning smile.
What is a Dental Bridge?
Dental bridges are used in conjunction with Porcelain Crowns to help regain your perfect smile. They are aesthetically pleasing and appear natural and discrete.
As dentists, we implement bridges when a patient experiences tooth loss. This type of restoration covers the place where one or more teeth are lost from the dental arch. A dental bridge is essentially a false tooth used for tooth replacement. Two crowns are then created on either side of the false tooth to provide extra support.
Benefits of Dental Crowns
There are several advantages to dental bridgework. Patients may benefit from bridges because they reduce the risk of developing Periodontal Disease. The correction of bite may occur and speech may also improve.
Bridges are a permanent solution and cannot be removed from the mouth. Oral hygiene must be strictly upheld once a bridge is applied. By implementing a dental bridge efficiently after the incident occurs, you may be able to prevent other teeth from shifting out of position. Bridges have a natural, translucent appearance and do not look any different from your natural teeth.
High-quality Dental Crowns and Bridges at DentArana
DentArana provides strong, long-lasting and natural looking crowns and bridges in Arana Hills. We take pride in providing superior work on restorative dentistry. Speak to one of our friendly staff today about Crown and Bridge.
Contact us on (07) 3351 3366 or visit us at Shop 5 Patricks Place, Corner Dawson Parade and Patricks Road in Arana Hills.