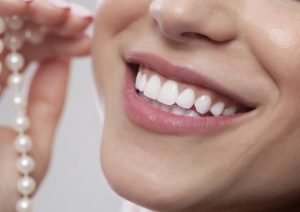 Of all the things you wear, your smile is most important. Cosmetic Dentistry combines art and dental science to maximise the impact of your smile.
By creating breathtaking natural results, Cosmetic Dentistry can change your life.
One of the first things people notice about you is your smile. If you are unhappy with your teeth they could be 'hiding' the real you, whereas a beautiful smile can brighten your life, both professionally and socially.
What is Cosmetic Dentistry?
Unlike plastic surgery, Cosmetic Dentistry isn't a major operation. Imagine visiting our Brisbane practice for one or two appointments and emerging with the smile you've always wanted. The results are immediate and there's absolutely no pain.
Cosmetic Dentistry is comprised of several dental treatments, such as tooth coloured fillings (white fillings), all of which are designed to enhance the appearance of your smile.
With dramatic recent advancements in the field of dental cosmetic treatment, your dream smile is now closer than you think. So whether you have a chipped front tooth or slightly discoloured teeth, we would love to help.
Top Benefits of Improving Your Smile
Boosts your self-esteem
Makes you look younger and more attractive
Makes you less self-conscious when interacting with other people
Keeps you in good and positive mood
Reduces stress and lowers blood pressure
Encourages you to improve your oral hygiene routine and take care of your teeth and gums even more
Why Choose DentArana for Cosmetic Dentistry?
At DentArana, we systematically plan your smile before we begin the actual procedure. We only employ experienced dentists who are skilled in creating a unique signature smile for each patient. With our skills, advanced methodologies and high-quality materials, we ensure the delivery of functional and beautiful results.
Our cosmetic dental treatments include but are not limited to:
Professional teeth whitening – if you are worried about your dull, stained teeth, then you might be a good candidate for teeth whitening. The treatment whitens your teeth in just less than an hour. On the other hand, if you choose to whiten your teeth at home, the dentist may provide you with a home kit, which is comprised of a whitening gel and a mouthpiece.
Read more about Teeth Whitening
Veneers – a versatile cosmetic treatment, veneers can fix a wide range of aesthetic issues such as discoloured, worn down, chipped, or broken teeth. Veneers are extremely thin and are bonded on the front surfaces of your teeth to hide the imperfections and improve the appearance of your smile
Read more about Veneers
Invisalign – not comfortable with metal wires and brackets? You may want to consider the revolutionary Invisalign. These nearly invisible and comfortable series of braces straighten your teeth and improve your dental health without the need for traditional braces. Invisalign is ideal for teenagers and adults who have minor orthodontic issues.
Read more about Invisalign
FREE Cosmetic Consultation in Arana Hills
A trip to your Arana Hills dentist at DentArana can be your key to achieving a healthy, perfect smile. If you are not satisfied with the appearance of your teeth, come and visit our clinic today! Discover the amazing benefits of a beautiful smile that can last for many years. Our advanced techniques and premium materials will help you get the smile of your dreams.
Grab your FREE consultation for Cosmetic Dentistry including Smile Make-over, Orthodontics and Anti-wrinkle Injections.
Contact us on (07) 3351 3366 or visit us at Shop 5 Patricks Place, Corner Dawson Parade and Patricks Road in Arana Hills.