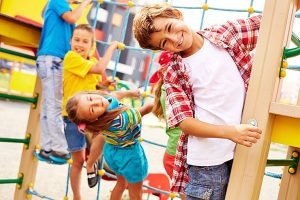 A child's baby, or primary, teeth are of huge importance. As well as helping to pave the way for secondary teeth, they enhance both the speaking ability and chewing function. As a parent you are the ultimate role model for your children's dental, dietary, and oral hygiene habits. Setting a good example right from the start can help to create a healthy routine for their future. Supervising your children while they brush their teeth is a beneficial dental technique to establish good oral hygiene. You can help your children to reach all the 'tricky' spots and show encouragement during this vital process.
The Importance of Children's Dentistry
Our dentists encourage working with your kids to establish healthy eating habits from an early age. A balanced diet and the consumption of foods from all sections of the healthy food pyramid can prevent decay as well as help to strengthen and protect teeth. Please, however, don't wait until your children experience a toothache to visit us. A child's first dental check-up should begin just after the eruption of their first tooth. Paediatric dentistry helps kids to establish healthy dental habits. Visiting at an early age can also help to eliminate any fear of the dentist.
The Objectives of the Children's Dentistry
The main objective of Paediatric Dentistry is to prevent oral health problems such as tooth decay and periodontal disease. Your Arana Hills dentist knows how to treat a child without harming any developing teeth. Services under children's dentistry may include:
Check-ups and treatments of existing dental problems
Comprehensive teeth cleaning
Filling up cavities and preventing tooth decay
Extracting a loose tooth
Providing recommendations for proper and healthy diet
Teaching techniques on how to keep your child's teeth strong and healthy
Children's Dentistry in Arana Hills
At DentArana, we can even make dental appointments fun! Children's dentistry is a completely safe and will help your child to achieve and maintain oral health. Speak with one of our dental team at your next visit for the correct brushing and flossing techniques for your children. Contact our friendly staff to find out if your family is eligible for Medicare's Child Dental Benefits Schedule.
The Child Dental Benefits Schedule will continue in 2018
In the news:
The Australian Dental Association (ADA) has applauded announcement by the Turnbull Government and its Health Minister, Greg Hunt, to reinstate the Child Dental Benefits Schedule (CDBS) cap to $1,000.
"The Minister for Health, the Hon Greg Hunt … advised the ADA that a number of changes to the CDBS have been finalised and will take effect on 1 January 2018."
Bulk Bill for children who are eligible for MEDICARE CHILD DENTAL BENEFIT SCHEDULE
Up to $1000 worth of dental treatments over two year
Contact us on (07) 3351 3366 or visit us at Shop 5 Patricks Place, Corner Dawson Parade and Patricks Road in Arana Hills.