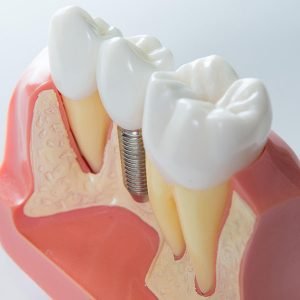 Bone loss around teeth is a common problem in the older population, and is usually caused by oral health problems such as dental trauma, gum disease, or infections.
Bone grafting is an excellent solution to address bone loss and its related problems. It is recommended to restore your natural jaw ridge, facial profile, and dental health.
At DentArana, we can help you re-establish the function and beauty of your smile with our experience in bone-grafting procedures.
When is Bone Grafting Used?
Tooth loss is primarily caused by gum disease. Other reasons for tooth loss include injury, decay, and infection. These problems can lead to the weakening and deterioration of the jawbone, which lessens a patient's candidacy for dental implants.
Bone grafting is used to treat advanced gum disease and add bone to a jaw that will be receiving implant treatment. Your dentist will take bone from another area in your body and transfer it to the jawbone to increase the bone mass. After the bone grafting procedure, your dentist can properly insert the titanium post.
Bone grafting is not only performed to allow the fusion of implant to your jawbone. It can also help treat bone deterioration that result from dentures, tooth extraction, dental deformities, or oral cancer.
Types of Bone Grafting Procedures
There are different types of bone grafting procedures. Your dentist will perform the procedure that suits your specific needs and addresses your particular condition.
Allograft – bone used in the procedure is synthetic or taken from a deceased donor or cadaver from a tissue bank.
Autograft – the bone is taken from your own body, such as your chin, wrist, or pelvis.
Xenograft – bone used in the grafting procedure is bovine bone (cow bone)
Good Candidates for Bone Grafting
Bone grafting may be advised for the following reasons:
If you have missing teeth that have resulted in jawbone loss and deterioration (jawbone atrophy)
If you have experienced a traumatic mouth injury that led to jawbone atrophy
If you have undergone oral surgery that caused bone loss
If you were born with congenital defects that led to a bone structure shortage
The Bone Grafting Procedure
For treating gum disease:
Your dentist will create a gum flap to place the bone graft material. Growth factors will be applied to the root. Your dentist will then insert the material into the area where bone was lost.
The next step involves closing and sewing the gum together. The growth factors will start to simulate tissue growth. The graft material will provide a platform for new bone to grow. Once the area heals, your dentist will remove the stitches. After the gums have healed, it will take a year for new bone growth to fill the space.
For inserting dental implants:
Your dentist will insert the grafting material into your jawbone. You will need to wait for several months while the graft is creating new, sufficient bone to ensure that the implant will be secure and stable. Once the graft is complete, your dentist can proceed to the implant surgery.
Schedule Your Bone Grafting Appointment at DentArana
If you have questions about the procedure, benefits, risks, and cost of bone grafting procedure, we encourage you to schedule an appointment with your experienced Arana Hills dentist at DentArana.
Bone grafting can be a risky and extensive procedure. That's why choosing the right dentist to perform the procedure is crucial in ensuring the success of the treatment.
At DentArana, you can be assured that you are in safe hands as our dentists are extensively trained and experienced in the field of Implantology and Oral and Maxillofacial Surgery.
Contact us on (07) 3351 3366 or visit us at Shop 5 Patricks Place, Corner Dawson Parade and Patricks Road in Arana Hills.